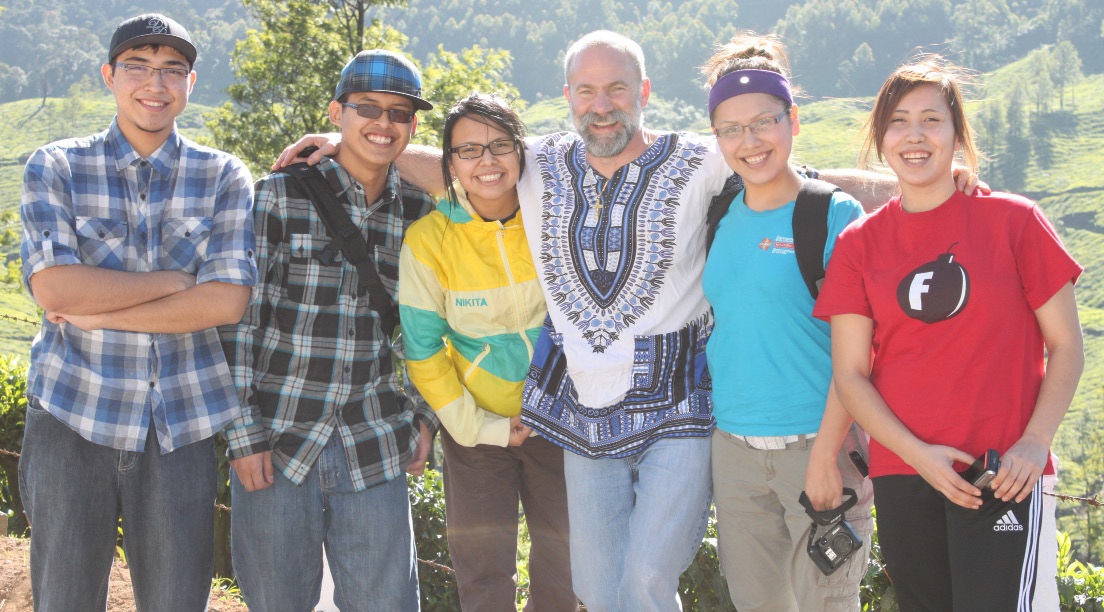 In December 2011, SAFP contributor, Michael Botermans, and six youth from the Northwest territories travelled to Kerala and Tamil Nadu with SAFP. The following is a reflection on their experience, as written by Michael.
India is as diverse, dynamic and different from the Canadian Arctic as summer is to winter, and vice versa. It was in December 2011, that a small band of Tlicho (Dene) youths and myself, their mentor from Behchoko, a small hamlet off the North Arm of Great Slave Lake in the Northwest Territories, traversed half the globe to begin our venture in partnership with Save A Family Plan.
Teresa Weyallon-Zoe, Jacqueline Gon, Mercedes Rabesca, Dene Daniels, and Shawn Gon (all Tlicho students) and I, the one who instigated this endeavor, left a snow-covered western arctic under temperatures as steep as -32 degrees Celsius. In two days we found ourselves in the southern-most states of India (Kerala and Tamil Nadu) in what felt like temperatures hovering around +32 degrees with no snow in sight. Greeted by waving palm leaves, exotic flowers and unparalleled hospitality by a host of local peoples, our story begins. It was here we experienced the fertile land, varied languages, scrumptious foods, and spirited communities of a country and a people beyond compare. We met our gracious host, Father Augustine Bharanakulangara and his "collaborators of love" and before long embarked on a mission unimaginable.
My task was simple: to offer the young Canadian adventurists firsthand knowledge of the "poorest of the poor" by experiencing and witnessing some of the family and community development projects that Save A Family Plan is involved in, and all of which help build the kingdom of God on earth. First things first, however, and we began by travelling through meandering roads and tropical rainforests of the south to reach some of the impoverished families I support through the Family Development Program. Most of these families live in far-off villages that would take us through the various landscapes of southern rural India. I felt as though it was like a family reunited for the first time after years of separation and the elation we felt and exchanged left us in heaven. It was a learning experience for our group to see first-hand how the poor are empowered to make such changes in their lives and how a whole team of volunteers and experts is involved in the enhancement of life for these families, to help restore their dignity and strengthen their faith. It was marvelous and miraculous to see the progress made by these families, the "before" and "after" effects from Gospel love in action!
We visited a remote tribal school in Marayoor and the hope and progress education offers the village children and their families. Adding to the inspiration of India, we also visited a leprosy hospital, of which scores of lepers had lived in much of their lives with the stigma of the disease, a home for street girls to shield them from human trafficking and danger, and an orphanage, to name a few. Finally, after spending Christmas among these instruments of peace, the poor and SAFP staff alike, I knew I just had to do more, and plan a return visit. So upon my arrival in Canada, I immediately decided to partner with another 10 families! Until we meet again…