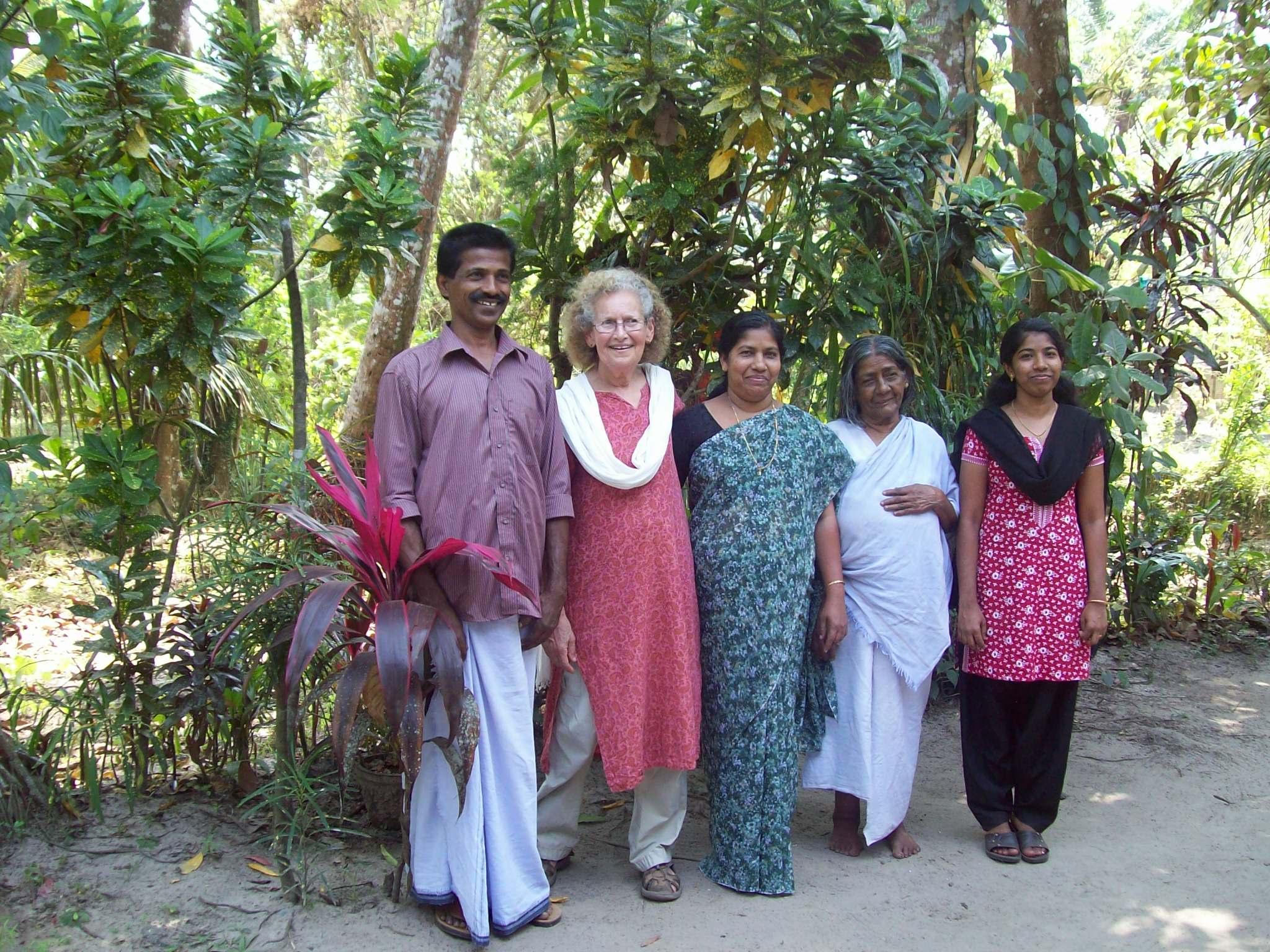 Cavorting emus. Have you ever seen emus cavort? If you visit Aiswaryagram, SAFP India's headquarters and agricultural training and research centre, and farm, you may. I did as I looked out my bedroom window one afternoon. You will see cows, pigs, horses, monkeys, chickens, ducks and nearly every farm animal you can think of, including the two emus.
The farm is beautifully run and serves many purposes. Every morning, men on bicycles come to pick up milk and deliver it to neighbors. If you're awake in the middle of the night, you will hear men and women taking care of the cows that need to be fed, and milked, and to have their stables cleaned out. Folks do every sort of work on the farm, including caring for the cars and the grounds, as well as the many animals. In this way, local jobs are provided throughout the community.
When I had called Lesley, Executive Director of SAFP, some month before my stay in Aiswaryagram, and expressed a desire to visit, she graciously invited me. This would be the sort of trip I could relate to; no 5 star hotels, just a chance to see South India from the perspective of the people who live there. When I arrived at the airport, Father Augustine met me in his small car.  At the farm, I was shown around and all my needs were met by the sisters, Maria Jose and Ann Mercy. Later, it was arranged for me to meet some of the families I had sponsored over the years. What a delight it was to visit families who had taken the donations they received and put them to such good use. Many families use the money to educate their children. One man explained that his parents had received support some years ago and this had made it possible for him to become a plumber. Now as a plumber he was able to earn enough to educate his three children. A son had become a lawyer, another son worked at information technology and a daughter was attending nursing school! Listening to this story made me think of my own parents struggles to educate me and my siblings. Sometimes just a little help is all that is needed.
We walked down a muddy trail surrounded by lush, green vegetation to the home of a woman who had been able to start a coir making business. We went to the back of her home and she demonstrated how she turned the fiber from coconuts into rope. She and her family all benefited from the money she earned. How proud she was to have this little business and to give me a piece of the rope she spun. It sits on a shelf in my office today.
Each family insisted on providing a meal for us. At the end of our trip, we had eaten many varieties of delicious Indian food and couldn't eat another bite!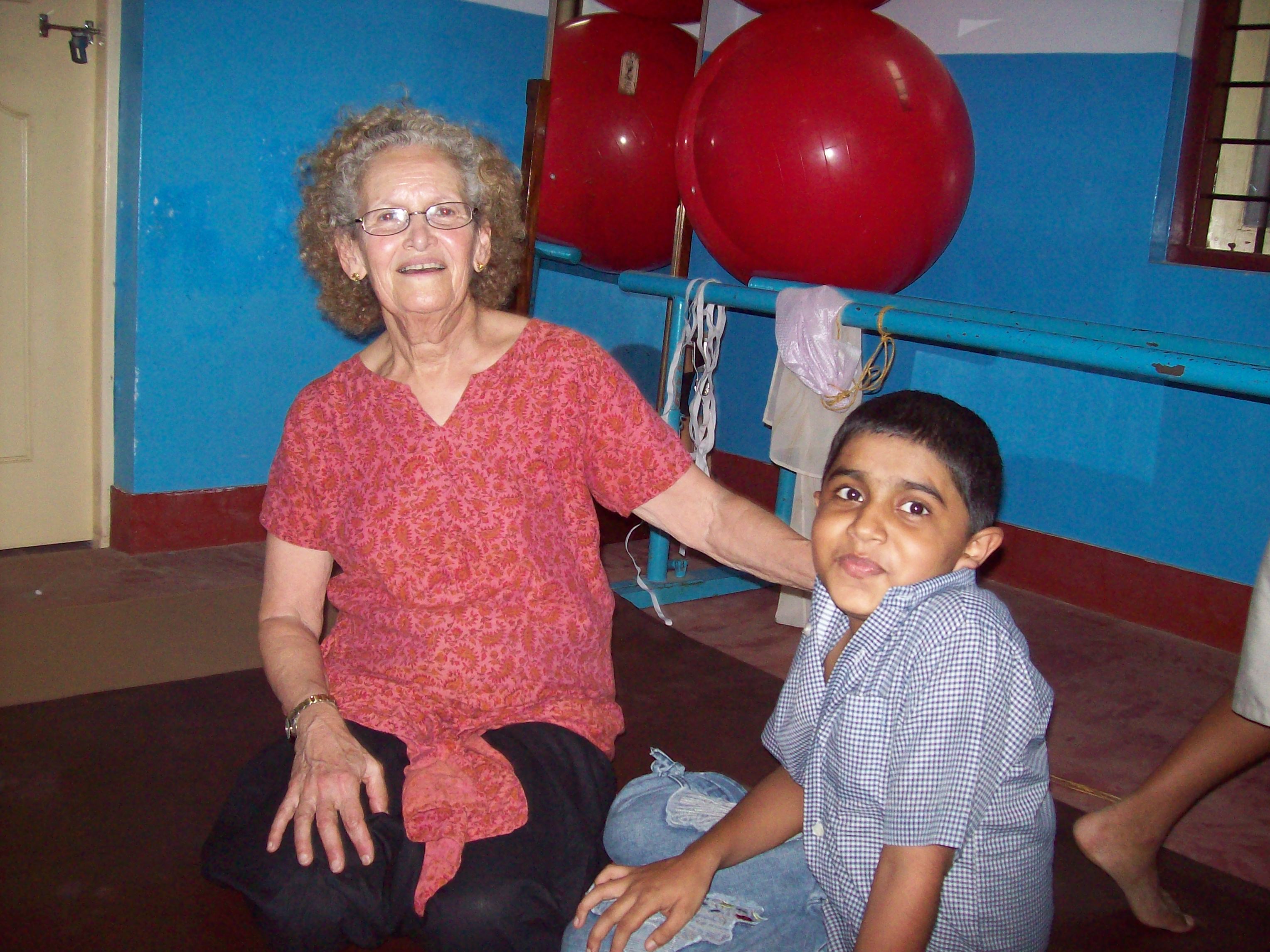 I also had the opportunity to visit two orphanages, where children as well as some adults with disabilities lived. The children at Home of Faith lived like sisters and brothers, attending school, and church services together. I rode the school bus to drop off children at their various schools. It brought tears to my eyes to see how the children helped each other.
One boy, who seemed bright and normal in every way had severely clubbed hands and feet. He accepted the need to roll wherever he went. When he needed to climb stairs or get onto the school bus, other children lifted him. There was no embarrassment or shame; just a feeling of loving cooperation as brothers and sisters helped each other.
Later I visited Mercy Home, also run by Sisters. Children were so delighted to have a foreigner visit, and had great fun attempting to teach me Hindi. I dutifully wrote down the words and tried to pronounce them. We all laughed long and hard at my flawed pronunciation.
One evening, several girls put on a show for all of us. They had sewn their own beautiful purple and silver silk dresses. Since they couldn't walk, their dance consisted of synchronized arm and body movement as they as they sang and "danced" to the music.

I cannot give enough praise to the people who run these institutions and to SAFP for allowing me to take part in their wonderful programs. As I slept under my aqua blue Mosquito net, I knew that this adventure was one I would never forget.
By Judy Cirillo
Long time supporter of Save A Family Plan