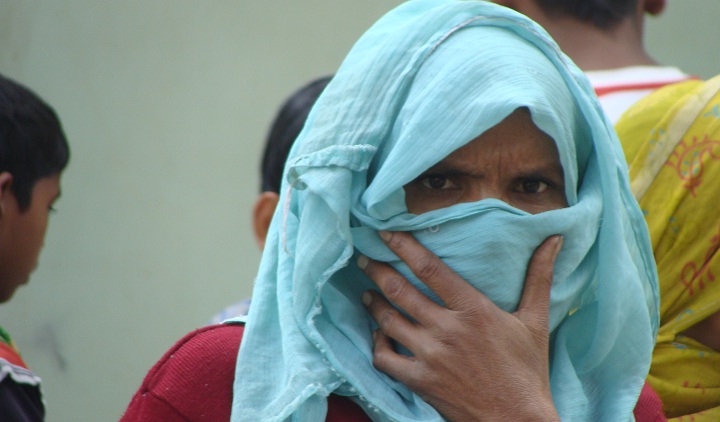 Try to put faces to the many victims in these recent news stories from India…
June 2012: A 32-year-old woman in Tirunelveli district in Tamil Nadu sold her five-month-old twin daughters for a promised Rs 25,000 (CAD$463) and Rs 15,000(CAD$278) respectively. The woman, named Selvi, is a single mother with an eight-year-old daughter. Her husband had deserted her and she was unable to provide for them, earning only minimal income as a daily wage labourer. She, and those who assisted her, were arrested and imprisoned for this crime (Times of India.) One of the twin girls later died after falling ill at a government-run adoption centre (Indian Express.)
June 2012: In Harda district in Madhya Pradesh, a 40-year-old farmer named Rajendra, his 35-year-old wife (name unknown), and their two boys Aniketh and Mohit, aged 14 and 11, committed suicide by jumping in front of a train. A police spokesperson said that the family had been in financial distress. (Times of India)
June 2012: Police rescued 108 child labourers from small-scale industry units in Mumbai, Maharashtra, and arrested 25 alleged employers. Aged 8 to 14, the children were working in bag and purse-making units, and zari manufacturing. (Zeenews.com)
June 2012: Two underage girls who were to be sold for Rs 5,000 (CAD$93) each have been rescued by police in Ghaziabad, Uttar Pradesh. One person has been arrested and two are being questioned. Police were tipped off that a person would be arriving at the city's train station with the intent of trapping girls for prostitution purposes. The girls, from Bihar and Jharkand, were lured with promises of jobs. The accused admitted he looked for girls at Metro stations, railway stations, intersections, and slum areas, and that he had already sold five girls. (Times of India)
July 2012: In Jagatsinghpur district in Orissa, a 25-year-old woman, Basanti Mandal, killed herself by consuming poison. She also attempted to kill her two-year-old daughter, who is in serious condition after being rescued. Basanti's husband had deserted her six months prior. She worked as a low-wage daily labourer in a small fishing village. (Times of India)
July 2012: After being lured away from their homes by child traffickers who promised them good jobs, nine boys from poor families in a small town in the East Champaran district of Bihar were rescued in faraway Chennai, Tamil Nadu. The boys, ranging in age from 13 to 18, were going to be sent to the industrial city of Tirupur to work as cheap labour in the textile industry. Parbar, a father of one of the boys, is a daily-wage labourer. who told authorities that the contractor had paid him Rs. 1,000 (CAD$18) in return for providing a job for his son. (The Hindu)
July 2012: As of July 1st of 2012, 422 farmers have committed suicide in the Vidarbha region of Maharashtra. Farmers are distressed at the lack of rainfall due to the delay of the annual southwest monsoon, knowing that their crops will fail and they will be unable to pay their debts. (Thaindian News)
April 2012: A 13-year-old housemaid has been rescued and two doctors, a husband and wife, have been arrested in Delhi. The girl, from Jharkhand, had been held captive and starving in their home while the couple vacationed in Thailand. She was rescued after neighbours saw her crying on a balcony. The girl alleges that, prior to this incident, she had often received beatings from the couple during her term of employment. The two home-owners have been charged under the Juvenile Justice Act, Bonded Labour System (Abolition) Act, Child Labour Prohibition and Regulation Act and Indian Penal Code. (Expressindia)
The stories in the news speak loudly of hopelessness and desperation–of husbands and wives and parents and children who have been let down by the rest of us. Is there no safety net? Despite the massive investments of the Indian and State Governments toward programs that address poverty and inequality, there are obvious failures. Men and women continue to lose hope, and children are sacrificed.
Economic logic helps us to understand that people who are disadvantaged or without adequate financial resources cannot participate fully in society, whether it be as producers, consumers, or decision-makers. It is important to know this. Yet, for the most part, the concept of poverty remains impersonal and faceless. Who are these people that suffer the indignity of not being full and respected members of society?
Poverty is indeed personal, and has a face. Save A Family Plan and its partner agencies see the faces of poverty every day among the thousands of people in the many villages in which it operates in India. Those of us who have chosen to support this organization are first introduced to these people by reading their troubling stories and seeing their faces in photographs. I'm sure that most of us are affected, often disturbed–just as we are when we read news stories such as those above.
Recently, I was reading an article (Faus 2012, p16) that made reference to the writing of E. Levinas, a French philosopher. Levinas, according to Faus, believed that "the face is an appeal, a call to respect, to sustenance, to communion." He goes on to say that, "…contemplation of the face transcends the simple recognition provided by sight and becomes a call which asks to be listened to…". (my emphasis)
By looking at the faces of poverty, we are acknowledging the call which asks to be listened to.
SAFP's family and community development initiatives allow us to look into the faces of those calling out to us. Our support has direct impact on the lives of the poor–helping them to build livelihoods that can provide a steady income source; ensuring that their children get educated; providing them with the information that allows them to access health and social programs; and helping them, both men and women, to know their rights–and more importantly, their worth.
LL Chan